Our members are composers and composer-performers who have created substantial bodies of work connected to landscape, nature, and place, and for whom inspirations from the natural world are an ongoing focus. While much of our music could broadly be described as "contemporary concert music," "contemporary classical," or "New Music," our works encompass wide-ranging influences from classical, popular, and traditional genres, creating work that may be notated, improvised, acoustic, and/or electronic.
Including both established and emerging voices, our international group of 22 composers is a resource for artist discovery and a catalyst for collaborative projects.
Inquiries are welcome from artists who may be interested in joining the composers' network. New members are added during twice-yearly invitation periods. Visit the About page to get in touch.
Please follow the links to our members' profiles, below, to learn about each of our featured composers and to sample their music.
---
Katherine Bergman
Minneapolis, MN
"Much of my work is centered around ecology and conservation, with particular interest in landscapes of the Upper Midwest. My goal in composing landscape music is to depict the unique identity of each scene, reflect the serenity and wonder of the wilderness experience, and recognize the delicate connection between our actions and our environment."

➤ View Profile
---
Jenni Brandon
Long Beach, CA
"Nature has a profound effect on the music I write. I find that even in urban settings we can be reminded of its impact on us as it calls us back to this stillness at the center of our hearts. A quote from Wendell Berry's poem 'The Peace of Wild Things' reminds me to seek this stillness and beauty all around us:
'…I come into the peace of wild things
Who do not tax their lives with forethought
of grief. I come into the presence of still water.
And I feel above me the day-blind stars
Waiting with their light. For a time
I rest in the grace of the world, and am free.'"
---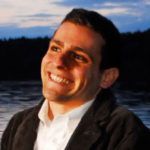 Oliver Caplan
Medford, MA
"In my music, the geographies of people, places and ideas intertwine to become tales of transformation. From nature to world affairs, recent compositions have included works inspired by Jane Goodall, Frederick Law Olmsted, and the landscapes of New England. My goal as a composer is to create an emotional journey for audience members and connect them to music's incredible ability to touch something deeply human inside of us, a place that words do not always reach."
---
"After being in Japan during the tsunami/earthquake/nuclear disaster, composer Toru Takemitsu's words became central to my vision: 'A lifestyle out of balance with nature is frightening. As long as we live, we aspire to harmonize with nature. It is this harmony in which the arts originate and to which they will eventually return.'"
---
Jacinta Clusellas
New York, NY
"Growing up in Argentina, nature has always been part of my life and one of the main sources of joy and inspiration for me. When I am immersed in nature I feel closer to myself and therefore connected to my purpose for composing and being an artist."
---
Nell Shaw Cohen
Founder & Director
Brooklyn, NY
"My passion for nature, landscape, and place has infused my work, from tone poems for symphony orchestra to multimedia pieces for chamber ensemble with video. My Landscape Music encompasses reflections upon my personal experiences and memories of places, as well as reinterpretations of landscapes depicted by visual artists and writers."
---
Ben Cosgrove
Northern New England
"I don't necessarily think of my pieces as rendering places in music, but more just as a way for me to respond to places musically. Writing music just turns out to be a great way for me to process the world."
---
"I generally think of composing as my escapist refuge, delightedly lost down a cozy rabbit hole of sounds structured over time, to share with performers who will in turn share them with listeners. Although I don't consciously make a point to do so, the inspiration for these idyllic escapes is often a recent visit to a lake, forest, river, desert, or my own garden."
---
Michael Futreal
Shreveport, LA
"Musical interpretations of landscape can articulate impressions of places as powerful catalysts to imagination and memory. For me, to be in a landscape is to feel immersed in the deep time of life and Earth as it relates to the brief candle of individual perspective; landscape music can give voice to this relationship, and, at its best, help kindle it."
---
Derek Keller
Sacramento, CA
"California's historical, cultural, and environmental diversity has inspired me to blend my musical influences in rock, jazz, and historical forms to coalesce in an avant-garde oeuvre that aims to address socio-political flashpoints of our moment."
---
Brent Lawrence
Eugene, OR
"Every landscape contains an infinite number of stories. My goal, when creating nature-inspired music, is to draw out those narratives and ponder the stories that could be told, if only the land could speak."
---
Stephen Lias
Nacogdoches, TX
"We are the music makers,
And we are the dreamers of dreams,
Wandering by lone sea-breakers,
And sitting by desolate streams;—
World-losers and world-forsakers,
On whom the pale moon gleams:
Yet we are the movers and shakers
Of the world for ever, it seems."
—Arthur O'Shaughnessy
---
"Art is less a creation and more an allowing. My process is to be in tune with the landscape and allow the sounds, sights and impressions to shape my compositions. My music is inspired especially by the beauty of the Keweenaw Peninsula on the shores of Lake Superior where I live and work. The sounds and images that surround me, like the rhythm of the waves, the song of the white-throated sparrow or the stillness of winter, all offer inspiration. By giving a voice to the landscape and its inhabitants, my hope is to express this fragile relationship that we all share and need to sustain."
---
"The mountains and other natural environments of my Colorado upbringing hold a dear place in my music. The intricacies and majesty of everyday natural phenomena are a part of my work. Nature becomes a part of what  my music depicts or serves as the feature of site-specific works that play with space and resonance."
---
"Most of the music I perform is 'place music'—it's passed down by ear by people who live in a particular place. Then I go and perform or teach it somewhere where it's 'out-of-place.' When I compose and improvise, I enjoy pulling from the particular place I'm in, seeing how the unique environment will impact the sounds I choose to put together."
---
Justin Ralls
Portland, OR
"Imagine the cultural transformation that could unfold if all composers made a conscious effort to listen deeply to nature and formulate their own creative response."
---
Christina Rusnak
Portland, OR
"I strive to compose music that reflects my human experience. As an avid hiker, passionate about landscape, I'm voraciously curious about the world around me—how the earth formed, how people lived and how they expressed themselves and their world through music and art. My premise is that landscape shapes who we are."
---
Alex Shapiro
San Juan Island, WA
"Most of the homes in which I've lived have been on the water's edge, or, in the case of my sailboat, on the water itself. The constant, irregular rhythm and movement of bays, rivers, seas and ocean profoundly affect the way I hear. Through phrases that defy gravity and expectation, I attempt to communicate that which is elusive, haunting, and beautiful. Humans are torn by the self-made dichotomy of architecture and its nemesis, war. Nature's geometrically perfect snowflakes suffer the cruel, messy fate of the sun. Like petulant children, we, and the Universe, seek and create order, only to then destroy it and begin again."
---
"My music often draws upon natural phenomena and the sublime wonder of the natural world for ideas and inspiration. The richness of the earth dwarfs anything humans have or could ever achieve (which I find comforting). Amidst the crisis of climate change, I hope that my music will help inspire people to both appreciate the world around them and respect it – this respect has never been more urgently needed."
---
"Humanity and our ecosystem coexist. Humanity consists of billions of small living and breathing organisms and creatures. Our ecosystem also consists of billions of small living and breathing organisms and creatures. I see them as one in the same. Much of my work is my own musical amalgamation on how I view human interaction and the human condition with my own immersions into nature."
---
Anne Vanschothorst
The Netherlands
"Between nature and music there is a mysterious, irreplaceable and eternal mystical connection. Besides conducting a symphony of sounds, nature is also a source of inspiration for artists/human beings. ― Like a sculptor as it were i shape sounds into cinematic imagery with the intent to move the listener. I believe in the power of subdued and stilled music that reflects the internal (psyche) and external (nature + cultural)  landscapes we are moving in = landscape music. A minimal and poetical note-score (so called harPoems) that comes from my strong desire to find beauty and consolation; music as an antidote to the present. Or to quote F. Nietzsche: without music life would be a mistake."
---
Stephen Wood
Atlanta, GA
"A holistic view of Earth's ecosystem is expressed through a musical relationship with environment."