Landscape Music: Rivers & Trails was a nationwide series of concerts in Fall 2018 commemorating the 50th​ Anniversaries of the National Trails System Act and the Wild and Scenic Rivers Act.
New! Read our Project Report with details about Landscape Music: Rivers & Trails and its impact on audiences and artists.
NEW! Visit our YouTube channel to view the concert video of Citywater's Landscape Music: Rivers & Trails program on Visions of the Wild at the Empress Theatre in Vallejo, CA.
Coordinated by the Landscape Music Composers Network, and presented in collaboration with organizations, venues, and performers across the country, this initiative highlighted and celebrated the significance of our national trails and rivers through the creation and presentation of new music. Landscape Music: Rivers & Trail concerts featured World Premieres of works for small chamber ensembles, created in direct response to the remarkable places protected under these two landmark acts.
Concerts were presented in Vallejo, CA (9/23); Atlanta, GA (9/29); Houghton, MI (10/4); Portland, OR (10/7); and Boston, MA (11/3), with related programs taking place in Oregon City, OR (9/25); Medford, MA (10/18); and New York, NY (11/16). These events were coordinated by members of the Landscape Music Composers Network, and presented, performed, and promoted in partnership with: U.S. Forest Service, Visions of the Wild, National Park Service, Sierra Club, Juventas New Music Ensemble, Michigan Technological University, Cascadia Composers (NACUSA), Atlanta Contemporary Ensemble, Citywater, Composing in the Wilderness, and Sustain Music and Nature.
The Landscape Music Composers Network is a group whose music engages with landscape, nature, and place. Including artists both established and emerging, writing in diverse styles, this network is a platform for collaborative projects aiming to increase appreciation and awareness of the natural world through music.
The Landscape Music: Rivers & Trails initiative mobilized the network's composers to compose eleven new works in response to our Wild and Scenic Rivers and National Scenic, Historic, and Recreation Trails for World Premiere on this concert series. Five rivers (Sudbury River, Klamath River, Owyhee River, American River, and Chattooga River) and six trails (Juan Bautista de Anza Trail, New England Trail, North Country Trail, Carson Trail, Oregon Trail, and Florida Trail) were highlighted. Two of the concerts also featured pieces by guest composers, chosen by Juventas New Music Ensemble and Cascadia Composers through competitive Calls for Scores. Highlighting a diversity of compositional voices and inspirations from nature, each event offered a different selection of works.
---
Vallejo, CA — Citywater
Sunday, September 23, 4:00pm at the Empress Theatre
Works by Caplan, Chase, Cohen, Cosgrove, Meyer, Panitch, Rusnak, and Suleiman.
Presented by Visions of the Wild, in partnership with the U.S. Forest Service
with support from the National Park Service.
Coordinated by Nell Shaw Cohen.
Event Page
Atlanta, GA — Atlanta Contemporary Ensemble
Saturday, September 29, 7:00pm at the Shambhala Meditation Center of Atlanta
Works by Caplan, Lawrence, Meyer, Rusnak, and Wood.
Presented by Stephen Wood, Sierra Club – Georgia Chapter, and Sierra Club Military Outdoors.
Coordinated by Stephen Wood.
Event Page
Houghton, MI — Michigan Technological University
Thursday, October 4, 7:30pm at McArdle Theatre
Works by Caplan, Cohen, Cosgrove, Lawrence, Panitch, Ralls, Rusnak, and Wood.
Presented by Michigan Technological University.
Coordinated by Libby Meyer.
Hear the concert on livestream!
Event Page
Portland, OR — Cascadia Composers
Sunday, October 7, 2:00pm at The Old Church
Works by Chase, Cohen, Lawrence, Meyer, Rusnak, Wood, and guest Linda Woody.
Presented by Cascadia Composers.
Coordinated by Christina Rusnak and Brent Lawrence.
Event Page
Boston, MA — Juventas New Music Ensemble
Saturday, November 3, 7:30pm at First Church Boston
Works by Caplan, Chase, Cohen, Meyer, Panitch, and winners of Juventas's Call for Scores: Heather Gilligan, Michael Ippolito, and Ari Sussman.
Presented by Juventas New Music Ensemble.
Coordinated by Oliver Caplan.
Event Page
Related Events
Oregon City, OR — Free Community Discussion with Christina Rusnak
Tuesday, September 25, 5:30pm at End of the Oregon Trail Interpretive Center
Event Page
Cambridge, MA — Outreach Preview Concert by Juventas New Music Ensemble
Thursday, October 18 at Margaret Fuller House
Works by Caplan, Cohen, Ippolito, and Panitch.
Event Page
Sacramento, CA — Free Concert by Citywater (Cathie Apple and Friends)
Wednesday, October 24, 12:00pm at Westminster Presbyterian Church
Works by Chase, Cohen, and Rusnak.
Event Page
Sacramento, CA — Gala Concert by Citywater
Friday, November 2, 7:00pm at Sacramento State Festival of New American Music
Works by Chase, Cohen, and Rusnak.
Event Page
Partner Concert:
New York, NY — Corvus performs World Premieres from
2018 Composing in the Wilderness Arctic Adventure
Friday, November 16, 7:00pm at Federal Hall National Memorial
Works by participants in Composing in the Wilderness Arctic Adventure
Inspired by canoeing the North Fork of the Koyukuk River in Gates of the Arctic National Park
Presented by the Fairbanks Summer Arts Festival
in collaboration with the National Park Service.
Coordinated by Stephen Lias.
Event Page
---
Featured Composers and their Inspirations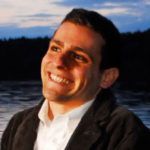 Oliver Caplan: Fairhaven Bay, inspired by Sudbury River (World Premiere).
Award-winning composer Oliver Caplan writes melodies that nourish our souls, offering a voice of hope in an uncertain world. He has been commissioned by the Atlanta Chamber Players, Bella Piano Trio and Bronx Arts Ensemble, among others. Winner of a Special Citation for the American Prize in Orchestral Composition, additional recognitions include Veridian Symphony Competition Wins and the Fifth House Ensemble Competition Grand Prize. Mr. Caplan is the Artistic Director of Juventas New Music Ensemble. olivercaplan.com
Linda Chase: Wildfires Rage. River whispers, resilience. inspired by Scott River (Klamath River) (World Premiere).
Composer, flutist, professor and eco-philosopher Linda J. Chase, Ph.D. weaves elements of chamber music, jazz and contemporary improvisation with poetry and performance arts. She has received awards from the Japan Foundation, Grand Canyon National Park, Kaji Aso Studio, and the Morris Graves Institute. Dedicated to listening to the Earth, Chase's recent multi-media oratorio, "The City is Burning," musically contemplates how the arts can build community, nurture compassion and deepen awareness that inspires action. lindajchase.com
Nell Shaw Cohen: Retrace, inspired by Juan Bautista de Anza National Historic Trail (World Premiere). Learn more in Cohen's essay for LandscapeMusic.org, "Retracing the Anza Trail."
Nell Shaw Cohen evokes natural landscapes and visual art in her lyrical works from orchestral tone poems to mobile apps. Upcoming commissions include Houston Grand Opera, Skylark Vocal Ensemble, and Montage Music Society. Her opera "Mabel's Call" has been presented in workshops with Fort Worth Opera, American Opera Projects, and University of New Mexico. She has been Artist-in-Residence at Brush Creek Foundation, Helene Wurlitzer Foundation, and New York University Symphony. She lives in Brooklyn. nellshawcohen.com
Ben Cosgrove: Trace, inspired by New England National Scenic Trail (World Premiere).
Ben Cosgrove is a traveling composer-performer whose music explores themes of landscape, place, and environment in North America. Ben has performed in every U.S. state except Delaware and Hawaii, and held artist residencies and fellowships with institutions including the National Park Service, the National Forest Service, Harvard University, Middlebury College, the Schmidt Ocean Institute, the Appalachian Mountain Club, and the Sitka Center for Art & Ecology. His nonfiction has appeared in Orion, Taproot, Northern Woodlands, Appalachia, and other publications. bencosgrove.com
Brent Lawrence: Turquoise Waters, inspired by Owyhee River (World Premiere).
Brent Lawrence is a composer and guitarist native to Salem, Virginia. As a creator of both instrumental and vocal works, he is noted for his use of lush harmonies, earworm melodies, and genre-bending compositional style. As an avid enjoyer of nature, many of his recent works have been inspired by narrative interpretations of landscapes. Recently, he has been a 2018 Composition Fellow at the Wyoming Festival in addition to composing works for Esteli Gomez and the Oregon Bach Festival Composers Symposium. Brent is an active member of Cascadia Composers and resides in Eugene, Oregon. brent-lawrence.com
Libby Meyer: Wild Beauty, inspired by North Country National Scenic Trail (World Premiere).
Libby Meyer is a composer of concert, theater and film music.  Her interest in natural soundscapes, conservation of special places and curiosity about the relationship between the arts and the natural world fuel her work. Libby holds a DMA in music composition from Northwestern University in Chicago and is currently a Lecturer in Music Theory and Composition and the director of the music composition program and Michigan Technological University. libbymeyermusic.com
Rachel Panitch: The Edge of the Marsh, inspired by Carson National Recreation Trail (World Premiere).
Rachel Panitch is a Boston-based composer, violinist, improviser, and teaching artist. Rachel performs Classical music with Cardamom Quartet and musiConnects, and improvises with audiences as a part of Thread Ensemble (a trio of violins and vibraphone). Rachel's fiddling and compositions can be heard on a PBS Utah Bucket List episode, which was filmed during her 2014 residency in Zion National Park. She will be an Artist-in-Residence in Acadia National Park in the fall of 2018. rachelpanitch.com
Justin Ralls: Rivers & Trails, inspired by locations in the Pacific Northwest.
Justin Ralls works have been performed at the Haydensaal in Schloss Esterházy, Lucca International Youth Orchestra Festival, Albany Symphony's American Music Festival, Britt Festival, Oregon Bach Festival, Fairbanks Summer Arts Festival and more by Third Angle Ensemble, San Francisco Conservatory Orchestra, Roomful of Teeth, Cadillac Moon Ensemble, Molly Barth, and Esteli Gomez. His works include award-winning "Tree Ride" and opera "Two Yosemites," which was premiered by Opera Theater Oregon. Ralls is working toward his Ph.D. at University of Oregon studying composition and nature, new media, and indigenous thought. justinralls.com
Justin's "Rivers & Trails" will be given its World Premiere on 7/21 at The Shire on the IN A LANDSCAPE: Classical Musical In the Wild concert series.
Christina Rusnak: Oregon Trail, inspired by Oregon National Historic Trail (World Premiere).
Passionate about composing about place and the human experience, Christina Rusnak integrates context into her music from the world around her. She composes thought provoking music that engages both the performers and the audience. Ms. Rusnak's works include a wide range of genres from chamber to acousmatic to jazz. She writes essays advocating for the music of living composers and serves on the board of the International Alliance for Women in Music. christinarusnak.com
Ryan Suleiman: Under Moonlight, inspired by American River.
Ryan Suleiman is a composer based in Sacramento and PhD candidate at University of California, Davis. His music aims to explore new worlds both sonically and expressively, incorporating "impressionistic textures and large melodic gestures" (SF Classical Voice), resonant sonorities, and shifting rhythmic structures. Ryan is deeply inspired by the wonder of natural world as well as the beauty and complexity of everyday life. ryansuleiman.com
Stephen Wood: The Chattooga, inspired by Chattooga River (World Premiere) and work inspired by Florida National Trail (World Premiere).
Stephen Wood is a Wilderness composer, educator, and performer with a holistic view of the world. Stephen's newest CD release, "Untrammeled" is a recent culmination of his Wilderness residency adventures through the United States. "Untrammeled" and other contemporary classical, jazz, and afro-cuban scores and recordings are available through his website. stephenwoodmusic.com
---
Contacts
For general inquiries, contact Nell Shaw Cohen, Director of the Landscape Music Composers Network, at nell@landscapemusic.org.
For information about specific concerts, contact event coordinators:
Visit our Communications Toolkit to download press-ready logos and descriptions.