Our members are composers, performers, and performing ensembles who have created and/or performed substantial bodies of work connected to landscape, nature, and place, and for whom inspirations from the natural world are an ongoing focus. Our artists' work encompasses a wide range of styles and may be notated, improvised, acoustic, and/or electronic.
Including both established and emerging voices, our international group of 39 artists (and growing) is a resource for artist discovery and a catalyst for collaborative projects.
Inquiries are welcome from composers, composer-performers, performers, and performing ensembles who may be interested in joining the Landscape Music network. Please submit an application using Google Forms.
Follow the links to our members' profiles, below, to learn about each of our featured artists and to sample their music.
Jump to: Performers & Ensembles | Composers & Composer-Performers
Performers & Ensembles
American Wild Ensemble
Springfield, MO
"American Wild Ensemble celebrates the people, places, and stories that shape American history and culture through the commission and performance of new music. The American Wild Ensemble specializes in context-driven music that encourages our audiences to explore their environments through a different lens, engage with contemporary music in a new way, and foster the sense of community between performers, listeners, and the spaces that surround them. We design programming that is unique to each of our partnering organizations or locations, offering cohesive, site-inspired performances, workshops, and special events that support and reflect the vision of our collaborators."
---
Ann M. DuHamel
Springfield, MO
"I've long had a deep attraction to all things spiritual, which my work as a classical musician reflects. Participating in Tyler Kline's 'Orchard' project in multiple facets—as commissioner, performer, recording artist—expresses this spiritual longing in an earthier way. The music reflects on cultivation, planting seeds, harvesting, and relationship to the land—how working with our hands and soil can yield beautiful, nourishing sustenance for the body and soul. In the spirit of eco-artivism, my latest project, 'Prayers for a Feverish Planet,' encompasses more than 60 new works for piano (and electronics) by composers on 6 continents, all reflecting on the climate crisis."
---
"All of the music we create is inspired by a spirit of place. The organic soundscapes of Öngtupqa are intended to complement cultural landscapes like Grand Canyon, Hopi Mesas, and Bears Ears National Monument. Original lyrics in Hopi language speak of clouds, rain, canyons, and ancestors, and were written while immersed within these landscapes. The music is both inspired by, in homage to, and a reflection of geographical locations with rich cultural significance. Traditional vocals are accompanied by some of the oldest instruments from the Southwest, including the Hopi long flute and clay pot drums."
---
Composers & Composer-Performers

Juhi Bansal
Los Angeles, CA
"I write music to try to understand the unknowable, to grapple with ideas too large to put into words, to bring people together by reminding us of the things we hold in common. Nowhere have I found as much inspiration for this as in the wilderness, where the scale, beauty and inescapably visceral nature of the world remind us how insignificant we are within the larger universe."

➤ View Profile
---
Katherine Bergman
Minneapolis, MN
"Much of my work is centered around ecology and conservation, with particular interest in landscapes of the Upper Midwest. My goal in composing landscape music is to depict the unique identity of each scene, reflect the serenity and wonder of the wilderness experience, and recognize the delicate connection between our actions and our environment."

➤ View Profile
---
Jenni Brandon
Long Beach, CA
"Nature has a profound effect on the music I write. I find that even in urban settings we can be reminded of its impact on us as it calls us back to this stillness at the center of our hearts."
---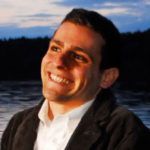 Oliver Caplan
Medford, MA
"In my music, the geographies of people, places and ideas intertwine to become tales of transformation. From nature to world affairs, recent compositions have included works inspired by Jane Goodall, Frederick Law Olmsted, and the landscapes of New England. My goal as a composer is to create an emotional journey for audience members and connect them to music's incredible ability to touch something deeply human inside of us, a place that words do not always reach."
---
"After being in Japan during the tsunami/earthquake/nuclear disaster, composer Toru Takemitsu's words became central to my vision: 'A lifestyle out of balance with nature is frightening. As long as we live, we aspire to harmonize with nature. It is this harmony in which the arts originate and to which they will eventually return.'"
---
Jacinta Clusellas
New York, NY
"Growing up in Argentina, nature has always been part of my life and one of the main sources of joy and inspiration for me. When I am immersed in nature I feel closer to myself and therefore connected to my purpose for composing and being an artist."
---
Nell Shaw Cohen
Founder & Director
Hudson Valley, NY
"My passion for nature, landscape, and place has infused my work, from tone poems for symphony orchestra to multimedia pieces for chamber ensemble with video. My Landscape Music encompasses reflections upon my personal experiences and memories of places, as well as reinterpretations of landscapes depicted by visual artists and writers."
---
Ben Cosgrove
Northern New England
"I don't necessarily think of my pieces as rendering places in music, but more just as a way for me to respond to places musically. Writing music just turns out to be a great way for me to process the world."
---
"I have been exploring the soundscape through my music and research since I began composing, more than 25 years ago. I am particularly interested in the songs of birds and other animals, in sounds and patterns that emerge from natural cycles, and in folklore about the natural world. I enjoy bringing sounds from outdoors into the concert hall, as well as creating pieces for outdoor performance."
---
"I generally think of composing as my escapist refuge, delightedly lost down a cozy rabbit hole of sounds structured over time, to share with performers who will in turn share them with listeners. Although I don't consciously make a point to do so, the inspiration for these idyllic escapes is often a recent visit to a lake, forest, river, desert, or my own garden."
---
"Our planet is diverse, and I see that diversity through my experiences with people, animals, nature, and landscapes. From the scary howls of coyotes to the serene sounds of water trickling, I try to communicate some of my experiences with nature and landscapes through music. I believe we humans can experience nature through multiple lenses, and when it is at its calmest, it can bring us some joy, serenity, tranquility, comfort, and peace."
---
Michael-Thomas Foumai
Honolulu, HI
"The communicative power of music to tell stories and paint sonic landscapes within the imagination is something I embrace in all my music inspired by my Hawaiʻi home. Music has the force to move and now more than ever, it is vital for me to create and to use music to tell the stories of our time, of what was, is and may come in the ever changing landscape of our blue island earth."
---
Michael Futreal
Shreveport, LA
"Musical interpretations of landscape can articulate impressions of places as powerful catalysts to imagination and memory. For me, to be in a landscape is to feel immersed in the deep time of life and Earth as it relates to the brief candle of individual perspective; landscape music can give voice to this relationship, and, at its best, help kindle it."
---
Randy J. Gibson
Philadelphia, PA
"My compositions are all duality in nature. Tacony Creek Suite exemplifies this statement: Composition 1- 'Wings As Eagles' speaks of ornithology and biblical concepts of enduring strength. Composition 6- 'Live Streaming: 8:46' speaks of the streams itself that runs through the creek and it also speaks of social media and social consciousness. The 8:46 represents the murder of Mr. George Floyd with a knee on his neck for 8 minutes and 46 seconds. All compositions should have more than one reference."
---
"My music draws back to my childhood in the mountains of Montana, inspired by a sense of place and process, where a knowledge of nature and its inhabitants is explored to understand the relationships of the world."
---
Leslie Hogan
Santa Barbara, CA
"My music manifests my longtime fascination with other art forms and with the potential of music to reflect or respond to visual stimuli from the natural world. In recent years, I've been drawn most strongly to light: the shimmer of morning sun on the ocean, the flatter luminosity of moonlight on a lake, the green tinged light that filters through leaves to the forest floor, starlight and meteor showers. There are particular kinds of light—not necessarily welcome, but still beautiful—that come with tornados, thunderstorms, and wildfires. There is music in all of it."
---
"What I find most meaningful in my work is connecting with people. Interacting with the unique landscapes of Hawai'i has given me the opportunity to connect with not just musicians, but scientists, educators, artists, dancers, and the local community in so many unexpected ways."
---
Derek Keller
Sacramento, CA
"California's historical, cultural, and environmental diversity has inspired me to blend my musical influences in rock, jazz, and historical forms to coalesce in an avant-garde oeuvre that aims to address socio-political flashpoints of our moment."
---
Brent Lawrence
Eugene, OR
"Every landscape contains an infinite number of stories. My goal, when creating nature-inspired music, is to draw out those narratives and ponder the stories that could be told, if only the land could speak."
---
Stephen Lias
Nacogdoches, TX
"We are the music makers,
And we are the dreamers of dreams,
Wandering by lone sea-breakers,
And sitting by desolate streams;—
World-losers and world-forsakers,
On whom the pale moon gleams:
Yet we are the movers and shakers
Of the world for ever, it seems."
—Arthur O'Shaughnessy
---
Andrew List
Boston, MA
"Nature has always been a major source of inspiration for me as a composer. My nature inspired projects are conceived as a community-building tool to help bring people together to celebrate, study and to take personal responsibility for our natural world."
---
"Art is less a creation and more an allowing. My process is to be in tune with the landscape and allow the sounds, sights and impressions to shape my compositions. My music is inspired especially by the beauty of the Keweenaw Peninsula on the shores of Lake Superior where I live and work. The sounds and images that surround me, like the rhythm of the waves, the song of the white-throated sparrow or the stillness of winter, all offer inspiration. By giving a voice to the landscape and its inhabitants, my hope is to express this fragile relationship that we all share and need to sustain."
---
"The mountains and other natural environments of my Colorado upbringing hold a dear place in my music. The intricacies and majesty of everyday natural phenomena are a part of my work. Nature becomes a part of what  my music depicts or serves as the feature of site-specific works that play with space and resonance."
---
"The first piece I ever wrote, when I was seven, was called "Rainy Day in the Forest", a short piano piece depicting the scenery I saw when I got caught in the rain in the middle of the forest. The sky suddenly getting dark and the strong sound of rain and thunder scared me, but I was also fascinated to see the forest in a wilder, more natural state. That memory left a big impression on me, and it felt natural for me to try capturing it with music when I was introduced to composition. To this day, drawing a landscape with music is one of my biggest inspirations in composing."
---
"Most of the music I perform is 'place music'—it's passed down by ear by people who live in a particular place. Then I go and perform or teach it somewhere where it's 'out-of-place.' When I compose and improvise, I enjoy pulling from the particular place I'm in, seeing how the unique environment will impact the sounds I choose to put together."
---
Justin Ralls
Portland, OR
"Imagine the cultural transformation that could unfold if all composers made a conscious effort to listen deeply to nature and formulate their own creative response."
---
Christina Rusnak
Portland, OR
"I strive to compose music that reflects my human experience. As an avid hiker, passionate about landscape, I'm voraciously curious about the world around me—how the earth formed, how people lived and how they expressed themselves and their world through music and art. My premise is that landscape shapes who we are."
---
"The impetus to compose a new piece usually begins for me with quiet; both physical silence and a quiet state of mind. Nature often gives that gift to me. Being in a landscape either familiar or very new and soaking up the elements through the senses, lets me connect back to that landscape with musical composition."
---
Alex Shapiro
San Juan Island, WA
"Most of the homes in which I've lived have been on the water's edge, or, in the case of my sailboat, on the water itself. The constant, irregular rhythm and movement of bays, rivers, seas and ocean profoundly affect the way I hear. Through phrases that defy gravity and expectation, I attempt to communicate that which is elusive, haunting, and beautiful. Humans are torn by the self-made dichotomy of architecture and its nemesis, war. Nature's geometrically perfect snowflakes suffer the cruel, messy fate of the sun. Like petulant children, we, and the Universe, seek and create order, only to then destroy it and begin again."
---
Judith Shatin
Charlottesville, VA
"My music is often animated by the calls of animals and the sounds of the world, both natural and built. My hope is, through empathetic response, to urge action to protect the land and all who are nourished by it."
---
"My music often draws upon natural phenomena and the sublime wonder of the natural world for ideas and inspiration. The richness of the earth dwarfs anything humans have or could ever achieve (which I find comforting). Amidst the crisis of climate change, I hope that my music will help inspire people to both appreciate the world around them and respect it – this respect has never been more urgently needed."
---
"Humanity and our ecosystem coexist. Humanity consists of billions of small living and breathing organisms and creatures. Our ecosystem also consists of billions of small living and breathing organisms and creatures. I see them as one in the same. Much of my work is my own musical amalgamation on how I view human interaction and the human condition with my own immersions into nature."
---
Darian Donovan Thomas
Brooklyn, NY
"I believe in music as space. Creating music that listeners can reside within for periods of time to refresh themselves and find catharsis within."
---
Anne Vanschothorst
The Netherlands
"Between nature and music there is a mysterious, irreplaceable and eternal mystical connection. Besides conducting a symphony of sounds, nature is also a source of inspiration for artists/human beings. ― Like a sculptor as it were i shape sounds into cinematic imagery with the intent to move the listener. I believe in the power of subdued and stilled music that reflects the internal (psyche) and external (nature + cultural)  landscapes we are moving in = landscape music. A minimal and poetical note-score (so called harPoems) that comes from my strong desire to find beauty and consolation; music as an antidote to the present. Or to quote F. Nietzsche: without music life would be a mistake."
---
Alondra Vega-Zaldivar
Toronto, Canada
"I've always been inspired by nature: from the sound of the ocean waves to the myriad of colours of our natural word. Through my art I wish not only to call attention to the damage we create but to inspire the world to let go of greed and come together in search for sustainable solutions. I dream of a Green future where we are all in harmony with Nature."
---
Stephen Wood
Atlanta, GA
"A holistic view of Earth's ecosystem is expressed through a musical relationship with environment."